"It is my sincere conviction that music development is a great way to impact on the hearts of the Chinese and Asian people. It has been proven over and over again that music and singing transcends all cultures, traditions, nationalities and individual beliefs." This is what drives Elrich, who lives in China.  He has been involved with China for the past nineteen years and has lived in China for the past thirteen years. He is fluent in Chinese Mandarin and speaks the language like a local Chinese person.
Elrich is passionate and dedicated to music development in Asia and when asked about the origin of his passion for music, he answered with a smile on his face, "Music plays an integral part in our lives as New Apostolic Church members, from South Africa. As children, from a very young age, we learn to play music instruments and sing hymns, so music fills our lives, entirely. The New Apostolic Church in Cape Town, has choirs for different age groups. A separate choir for Adults, Youth, Sunday School Children as well as a choir for retired members called "The Golden Voices". As New Apostolic Church members we were taught to sing with our hearts, not only our voices. Whilst music is very important to us on earth, we also believe that it plays an important part in the life hereafter, as reflected in Revelations 14:3.
Elrich is a highly-motivated and energetic young musician and has a Masters Degree in Music. A former clarinetist in the Cape Town Philharmonic Youth Orchestra in South Africa, he has initiated and developed many music projects in China. Until recently he was involved in teaching students choral music and also conducted various music presentations in China. Trained in woodwind, brass and stringed musical instruments maintenance and repairs, he is also effective in directing, planning and leading music concerts.
Asked about his views on the standard of music among Chinese New Apostolic members in China he said that when he first came to China and met up with Chinese New Apostolic members, he noted that the Chinese New Apostolic members, unlike other Chinese Christians, were limited in their knowledge of choral music and mostly presented Chinese national, patriotic and military style songs. He thought that this situation provided the perfect opportunity for him to share his God-given talents with his Chinese New Apostolic brothers and sisters. With the blessing of the responsible Chinese Apostle, at that time, he embarked on teaching the Chinese choirs four part choral music as well as choral conducting. This allowed him to travel far and wide in China and meet Chinese people from different walks of life, rural and urban.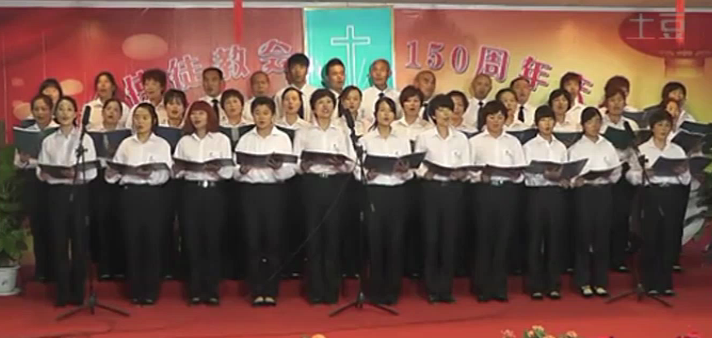 Talking about this period of his life brought deep memories and Elrich remarked "I can still see the joy on the faces of my Chinese brothers and sisters and this kept my spirit high. Their eagerness to learn and the willingness to sacrifice motivated me to do more and more. I felt that they would easily be able to sing our choir hymns at the same standard and level as any other New Apostolic Church choir. My vision was that one day, they would be able to produce their own music CDs and DVDs, just as our brothers and sister in NAC Cape has done and also travel abroad to display their music talents to their fellow brothers and sisters around the globe."
Unfortunately, during 2007, this Chinese Apostle was dismissed by the Church and he was instructed by the New Apostolic Church leaders to stay away from Chinese New Apostolic Church members in China. To continue with his passion for music development he decided to train Chinese, who were not part of the New Apostolic Church. One of the highlights of his music career in China was the hosting of a music concert in tribute to the well known South African New Apostolic composer Ivan Diedricks. This was historic, as it was the first time that the music of this great composer was performed by a predominantly Chinese Choir (not New Apostolic) in China.
Elrich is very pragmatic about him not being able to share his talents with Chinese New Apostolic members and says, "When the Chinese Apostle was dismissed and I was instructed to stay away from Chinese New Apostolic members in China, I sought advice from my church leaders in South Africa. My Apostle in South Africa taught me that if one door closes, eleven doors open and I must find other ways to praise God with my talent for music. This proved to be a great blessing to me. The instruction to stay away from my Chinese brothers and sisters allowed me to seek contact with Chinese, who were not New Apostolic Church members. This resulted in me developing other Chinese choirs and train individual Chinese musicians in choral music. Now I have choirs consisting of Chinese people, who are not New Apostolic, and we have lots of fun in praising God through music. I have also been invited to train choirs in Korea and Philippines, who all are not New Apostolic church members. It seems that my Apostle's words have come true for me and I am extremely thankful and joyful to be able to play a part in God's plan of salvation in Asia."
His fluency in Chinese Mandarin is a real benefit and has allowed him to develop a close relationship with Chinese people. His Professor of Music has this to say about him:
"Elrich has a friendly disposition and is well liked by the students, teachers and fellow colleagues. He constantly conducts himself in a professional manner and loves music. His deep passion for music will open doors for him, not only in China, but also in the rest of Asia"
As always, we value and welcome your feedback and comments.