Very soon New Apostolic Christians around the globe will be celebrating Thanksgiving. Thanksgiving dates back to biblical times when the people of the first covenant had great feasts to bring thanks to God for a bountiful harvest season.
This makes me think of gratitude and how we give thanks. Is there a difference between gratitude and thanksgiving? Are they different?
Well, yes, of course they are. Gratitude is a feeling whereas thanksgiving is more of an action. If someone does something for me, I feel grateful. My offering of thanks to that person is an action. Thanksgiving is gratitude in action.
So, how do we show our gratitude today?
The words "thank you" are such simple words, yet they hold a great power. "Thank you" can be considered as the most important words we utter. It is however also sometimes the most neglected words we speak to one another and even to our Heavenly Father. We show our appreciation and gratitude just by saying "thank you". There's a saying that states: "Those who think, thanks."
One Sunday per year members of the New Apostolic Church celebrate Thanksgiving Day. It is a day of bringing thanks and gratitude to God for everything He has granted. A day to thank Him for His grace.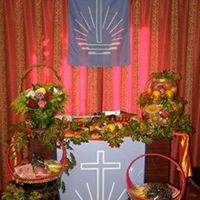 During Thanksgiving Day the gratitude of God's children is visibly displayed in their special thanks offering, their inner preparation, and especially the New Apostolic tradition of decorating the church altars with fruit, vegetables, flowers, bread, etc. Each year altars are beautifully decorated and each year great thought is given to the designs and themes of each church district.
Many feasts in the old covenant were held to thank God for allowing the people to sow and reap. They also brought offerings to God in many varying forms. They did not neglect to say "thank you" and acknowledged the Grace of God, because what they received was made possible through His love.

Today, many of us do not rely on agriculture as a source of income yet we too can and should give thanks for the "bountiful harvests" we receive in our personal and spiritual lives.
You might say giving thanks in the good is great but there's so much bad in the world, so much you might not achieve or situations that are cruel and people that are unkind. How can you still be thankful? How can you say "thank you" when you don't have money or someone you love dies? What's there to say "thank you" for?
Why should I thank God for those things?
The answer to me is simple really, I'm a Christian, a follower of Christ and trust God in everything. Let me be clear, I'm not an angel, I don't know the bible back to front but that's why I need Him. I sin. I praise Him in the good, run to Him in the not so good and even praise and say "thank you" for the bad.
Giving God thanks in everything helps me to recognize that God is good, regardless of whether I consider what I'm going through to be a blessing or a burden, or whether I understand the purpose of my experience, because ultimately He does. God does. And that is very comforting.
Today, whether things are going your way or not there's always a reason to say "thank you". Well, that's what I believe.
This Thanksgiving as we bring our individual thanks to God, let's also show it in our actions of fellowship with others around us. Perhaps how we look at things or how we live our lives can bring them hope or help them to understand that we can give thanks in everything (bad and good) and act upon our feelings of gratitude by doing good to others.
Have a happy and blessed Thanksgiving.
Please share your thoughts and comments, below.