Gap Year
When I think back of my teenage years, I immediately feel a deep sympathy for my parents, because to say that I was a difficult teen is a huge understatement. Specifically, I felt sorry for my mum, as my dad was mostly away during my high school years due to his tasks in China. As a turbulent teenager, I of course saw his absence as an opportunity to 'get away with murder' as the expression goes, and my poor mum had to deal with it all. This reminds me of a family-visit more than 15 years ago where an Apostle asked me "Why are you so manipulative?" I had no idea what he was talking about, but now as I'm writing this, I completely see what he saw. Nevertheless, my parents kept a strong / firm hand on me. I thank God for that.
In my senior year of high school, I was in search of independence and freedom from the rules of my household and so, I devised a plan and strategized on how I can bring this plan to my father for his approval.
On a Sunday, after lunch, while my dad was relaxing and reading the Sunday newspaper, I carefully approached him and told him that as I was only 17 years old, it would be wise for me to take a 'gap year' and figure out what I would like to do with my life before diving into my tertiary education. In my mind, the plan was well devised and showed a high level of maturity. My dad however, was not impressed. Instead he laughed at me and simply said, "You will go to Beijing, and you will study one semester of Mandarin Chinese". I simply agreed as I had little to negotiate with and could not present a counter argument to my dad.
Arriving in Beijing
On the 16th of February 2006 I landed in Beijing years after my first visit as a young child. I was accompanied by my older brother and a fellow South African youth sister. Beijing was vastly different, and I barely recognized anything. This is definitely one of the exciting things about living in China; everything is ever-changing.
We were warmly greeted by the Chinese Apostle Wang and fellow Chinese brothers and sisters at the airport. They helped us settle in and we all went for our first meal together that evening. Before we ate, the Apostle prayed with us, I will never forget the way he prayed because even though we were in a land so foreign and so strange to us, when we prayed together as children of God, I felt at home and our spirit was one. We grew very close with the Chinese Apostle Wang and he helped us with all of the challenges we faced in China. He fast became a 'father figure' for us in China and was always available in times of need.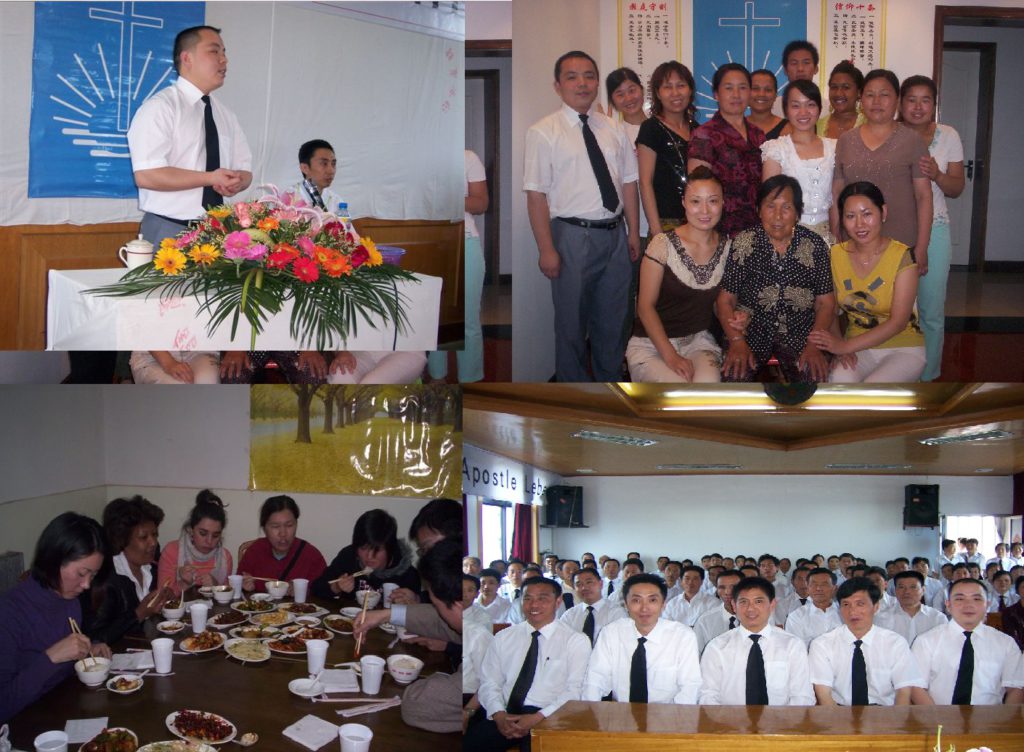 Up until this day religious activities in China are heavily regulated, monitored and, Christians are only allowed to worship under very strict conditions. However, it was and still is completely allowed and legal for foreign Christians like us, to worship with Chinese Christians, provided that the preacher is a Chinese national and not a foreigner and the relevant permissions have been obtained.
Our Chinese NAC brethren were very eager to engage with us, learn more about us and to join us in singing as much as they could. After divine services on a Sunday, the whole congregation would have lunch together and afterwards we would often spend hours singing together.
Worshipping and Fellowship in China
When I think back of the times we shared together with our Chinese NAC brethren, there are so many beautiful memories. One memory in particular was after a Sunday divine service, where a senior Chinese brother asked us to teach the congregation how to sing the closing 'Amen' in four-part harmony (Soprano, Alto, Tenor and Bass). To us this was such a simple request, but we could see that this meant so much to the congregation who now felt part of a wider and international NAC community.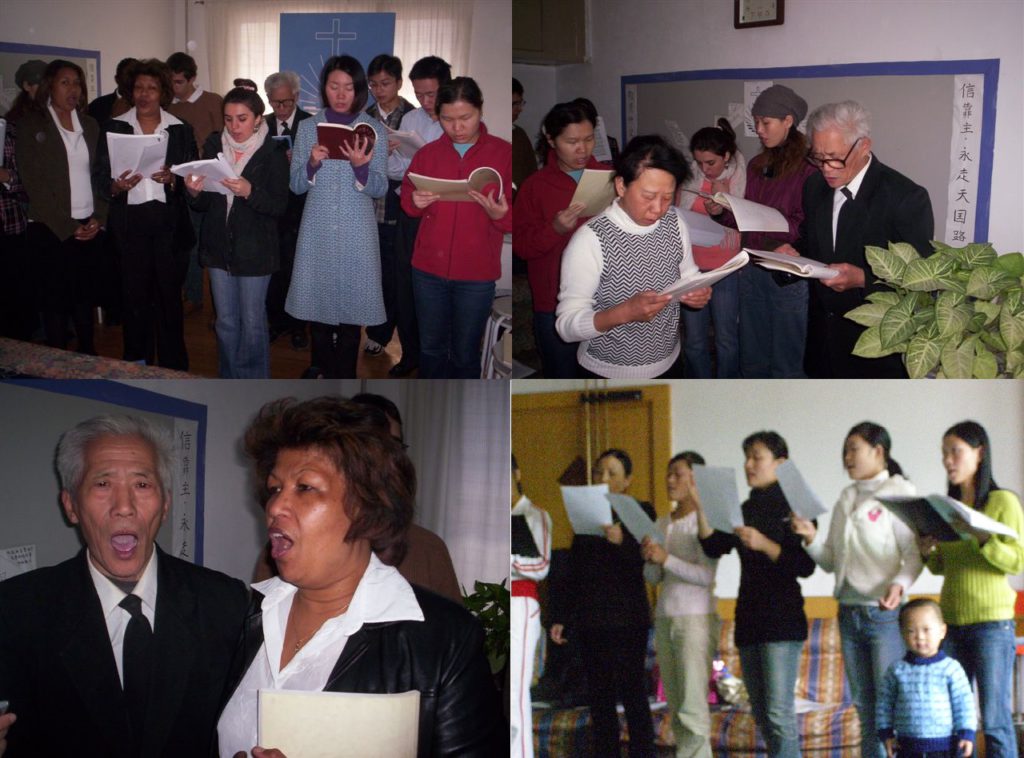 My mother always enjoyed spending time with the Chinese senior members and because she couldn't speak the language, she used music to communicate and have fellowship with them. The Chinese members were amazed by my mother's voice and often asked us how she can sing so beautifully. Having fellowship and sharing her passion of music with these members, brought my mother so much joy. She played a very strong supportive role to us as youth in China and taught us to not only hold fast to the Godly values which we know but to share it with our brothers and sisters as well.
Practically getting involved in the developments of the NAC in China
Learning Chinese Mandarin was a huge challenge, not only because of the grammar etc., I had to learn to not only speak the language but read and write as well and Chinese characters were not easy to read, to say the least. Luckily every day after Chinese class, I could go to Apostle Wang's office and there would always be a friendly brother or sister willing to help me with the language. I had a lot of motivation to master the Chinese language because we also had a sister from Albania, Eva, who was studying law and a brother from Zambia, David, who was studying medicine at that time. Both of their Chinese language skills were very impressive. Together we learned to sing hymns in Chinese and pray the 'Our Father' (The Lord's Prayer) in Chinese
The Chinese Apostle Wang is not only a certified social worker in China but is also a State approved preacher and therefore knew the intricacies of religious freedom in China, thoroughly. Despite the restrictions of the Chinese law, the New Apostolic Church in Mainland China developed to a level where there were approximately 20, 000 New Apostolic members. The work of the Lord grew steadily without much negative reaction from the Chinese authorities. Divine services and congregational activities were possible in serving the members, albeit under certain "tolerated conditions. The work area of Chinese Apostle Wang consisted of 285 congregations, 883 office bearers and about 16,700 members. China has a population of 1.3 billion people.  
As the lead Apostle in China, Chinese Apostle Wang was fascinated with the structure of God's work in the area formally known as NAC Cape and wanted to understand how the choirs and music in the area developed so fast. The Chinese Apostle was aware that prior to our arrival in China, our entire family was deeply involved in music both professionally and in the church as well. Both my brother and I had leadership roles in the orchestra and choir. My brother spent many years in previously disadvantaged areas of NAC Cape developing music and choirs as well. And because of our experience in music development in the Church, the Apostle asked us to share our insights with him.
We shared with him how music development starts at grass roots levels and how the love for music drew congregations together. We brought over recorder learning books for Sunday school children, various hymn collections and other musical development materials from South Africa for the Chinese Apostle to see. He then decided to appoint my brother as head of the music development in his Apostle area, which stretched over several provinces and comprised of thousands of Chinese members. He also appointed the South African youth sister, who accompanied us to Beijing, to help set up the various development programs, assist with training and to be his senior administrator.
As a family we saw this as such a blessing, being able to add and participate in the development of God's work in China. What a privilege! We took train trips and had choir practice sessions followed by fellowships with brothers and sisters from all over China. There was nothing foreign between us and our Chinese brethren anymore. We were united in the love for God and His work.
We would take long train ride journeys to travel to the members for choir and music training. These trips were always very exciting, and we couldn't wait to arrive the next day, freshening up at a basic hotel, having breakfast and heading straight to choir practice for the whole day. After an entire day of choir training, we would ask the members if they were tired or needed a break. They would always decline and tell us that because we could only gather together every few weeks or sometimes even months, they all wanted to make the most of these precious moments. In the evenings we would have dinner together and sometimes we would even continue training or have a meeting to discuss the training for the following day. As the Apostle's area stretched far and wide, many members also traveled for many hours to attend the training and had long journeys home but despite the tiring journeys the members were joyful, and we all drew strength from each other's company. Though tiring, these trips left all of us feeling invigorated with the love for God's work and for each other.
One trip in particular comes to my mind. It was in a city called Zhengzhou, Henan Province. It was the second time we were visiting our brethren in Zhengzhou. When we arrived, the deacon told my brother and us to have a seat and that they have prepared something for us. We sat down as the deacon counted "Yi, Er, San" (which in English means: One, Two, Three) and to our amazement they started singing the hymn "We shall remain united" in perfect harmony. It was so beautiful that I couldn't control my emotions and immediately began to cry.
My brother had just had one practice session with them months before that, and the choir had never before sang in four-part harmony. In the previous practice session the sisters sang well, but like in most NAC choirs around the world, the brothers were struggling during practice sessions. On that day, however, they all sang together in perfect harmony and it was clear that after we left, they kept practicing every week until our next visit to show us their dedication, and to give us this message "We shall remain united". When they finished a few sisters, came to comfort me because they thought that I was sad. They said "Bie ku, bie ku" which means "Don't cry, don't cry", but I immediately told them that their singing was so touching and my tears, are tears of joy and indeed we shall remain united.
First Christmas with Chinese NAC members
At the end of that year we celebrated our first ever Christmas in China. This was an incredibly unique experience, as we were celebrating the birth of Christ in a Communist country where almost no one knew about Jesus Christ. Needless to say, the Chinese government does not recognize Christmas day and it is most definitely not a public holiday. Despite this, we decided to do our best to make Christmas day as special as possible.
We invited our NAC brothers and sisters to have divine service in our home, after which we had a wonderful and festive Christmas fellowship. We prepared special Christmas dishes that we, as foreigners, would normally eat back in our home countries and our Chinese brethren also joined us in cooking some Chinese festive delicacies as well. We sang beautiful Christmas hymns together and some of our senior members joined in the music fun by dancing as well. I'm forever grateful to these brethren for making our first Christmas in China so special.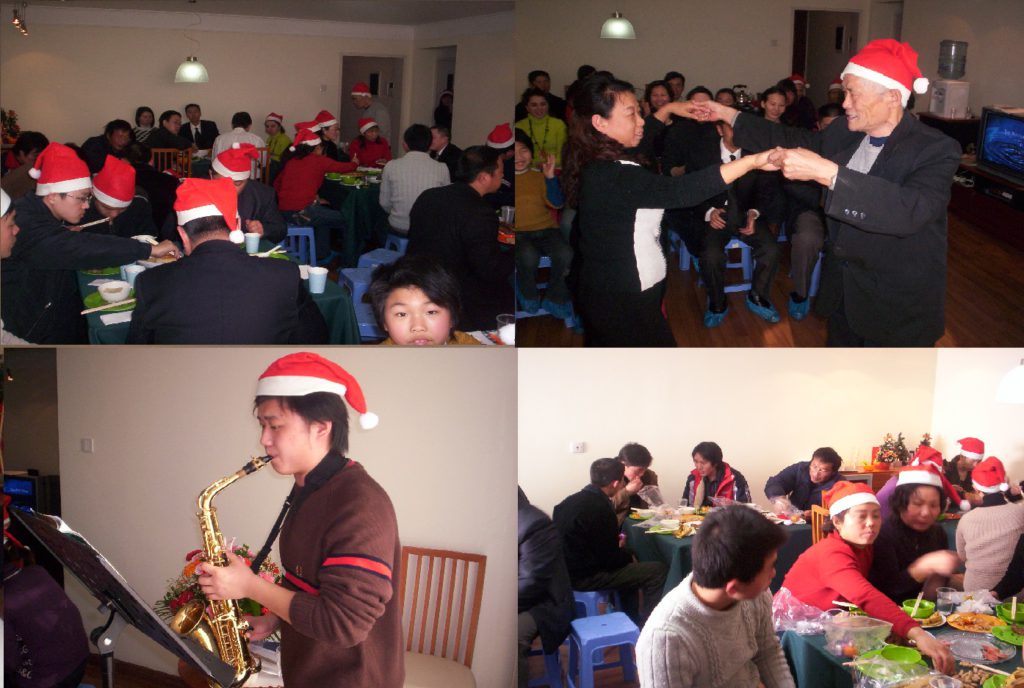 First Internet Transmission into Mainland China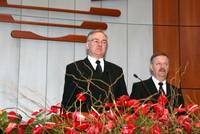 A huge highlight during that period was the Pentecost divine service of 2006, conducted by the now retired Chief Apostle Leber from Tafelsig Congregation, in Cape Town, South Africa and transmitted by satellite to 60 countries on all continents. About 1.5 million New Apostolic Christians were able to witness the service by live transmission.
As we were aware of the magnitude of this divine service, we were sad that our Chinese brethren would not be able to be connected. However, thanks to my brother for being obsessed with new technology and an overall computer nerd. He came up with a way that we, together with Apostle Wang and our Chinese brothers and sisters, could be connected to the Pentecost divine service also in Beijing, China.
This marked the first ever Chief Apostle service transmitted via the internet to Mainland China, in the history of God's work. When the responsible District Apostle heard of this unique happening, he did not hesitate to contact my brother who made this pioneering activity possible.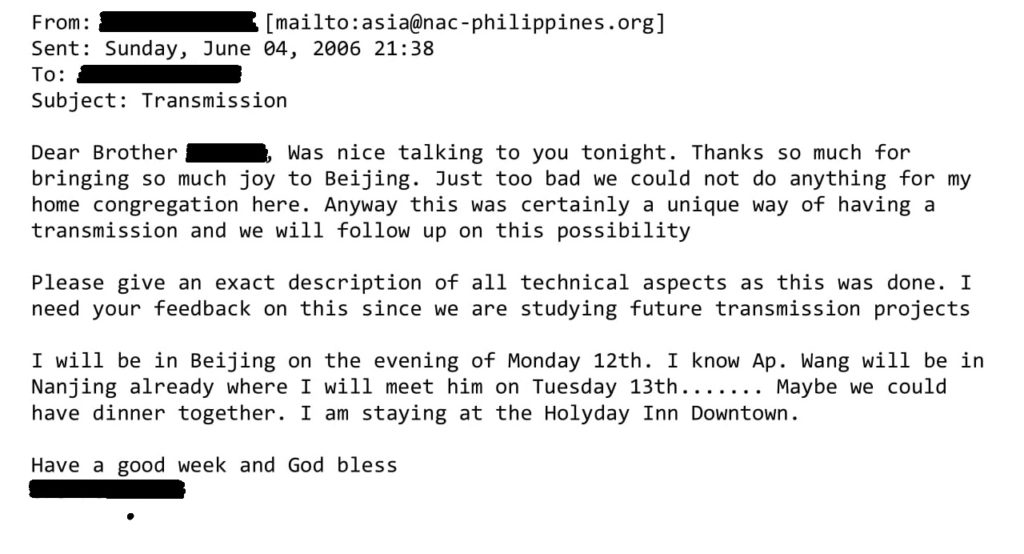 Conclusion
Needless to say, the word for that Pentecost Divine Service was written deep into our hearts. Chief Apostle Leber gave the Pentecost greetings word as: "But we are not of those who draw back to perdition, but of those who believe to the saving of the soul" (Hebrews 10: 39). Core thoughts out of this divine service were: "Under what circumstances might we draw back? When there is resistance. This is a danger of our days. There are influences which could bring us to the point of drawing back. There are dangers from outside and there are dangers from within." This was such a momentous occasion, history was made, and a powerful word was shared.
"Never draw back!" quickly became a catchphrase for us, both Chinese and Foreign New Apostolic members, in China. Little did we know that this particular text word would serve as a guiding light and would sustain us for the rest of our involvement in China and for many years to come. (To be continued……………Chapter 3)
To ensure that you stay informed and entertained, we encourage you to like or follow our Facebook Page, visit our website and follow us on Instagram and Twitter. 
As always, we appreciate your input and comments. Please comment below.