A new dawn
Studying in China was quite the challenge and I wanted to throw in the towel many a time. However, I couldn't waste such a golden opportunity and so, I worked especially hard to make sure that my lecturers and the faculty staff had the best impression of South African students. During 2008 the head of the faculty of International Education called me into his office and to my surprise he told me that they have noticed how hard I've been working and how fast I'm developing in the Chinese language and in my major studies as well. I was very humbled by this acknowledgement. The Dean went on to ask for my help, he explained that they would like to offer ten (10) African students fully paid scholarships for a bachelor's degree in the field of their choosing. This scholarship included; free tuition, free learning materials, a monthly allowance for living expenses, accommodation, health or medical insurance and more.
I thought to myself wow! What an amazing opportunity and I thanked the Dean. He then instructed me to work with the Admissions Department to get the ten (10) African students applications submitted as soon as possible. My first thought went out to helping those who were sitting at home unemployed without the chance of furthering their education. I especially thought of the many NAC youth that are struggling and don't have access to any real opportunities to grow and develop. I called my dad and told him this good news; he then helped me to contact various church leaders to ask them to recommend youth that are struggling in their areas and that could benefit greatly from such an opportunity. These members were identified, and the application process commenced.
Unfortunately, of the ten members that came to China to pursue a bachelor's degree, only a few actually graduated. Some of them forfeited their scholarships due to a lack of academic performance, behavioural problems and various other reasons and had to return to South Africa. Even though the university and I had nothing but good intentions when setting out on recruiting these students, we could not foresee the outcome.
Years later I found out that there were rumours being spread that my family benefitted financially from these students coming to study in China. This could not be further from the truth, not only did my family receive zero financial benefit from these students or their families, but my family often had to assist some of these students financially with the purchasing of flight tickets to get them back to their home countries. Nevertheless, as the saying goes, "A lie gets halfway around the world before the truth has a chance to get its boots on." (Author unknown)
Congregational growth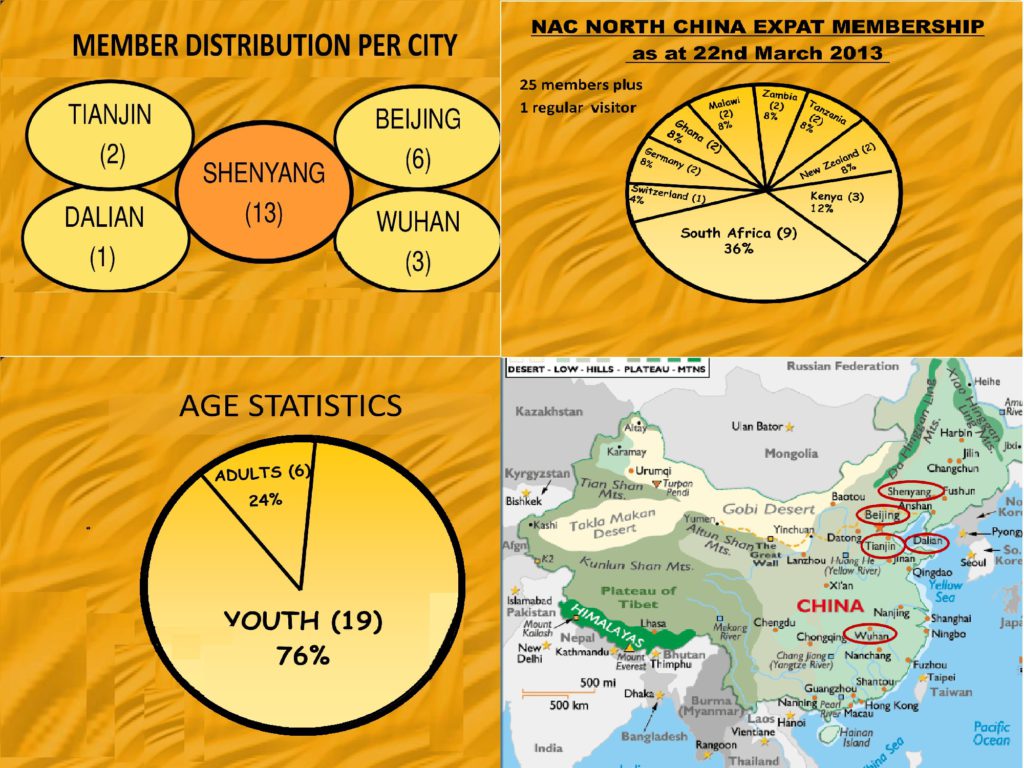 As China became a more and more popular country to seek employment, study and, pursue business opportunities so, more and more foreign New Apostolic members moved to China for short- and long-term stays. As at 2013 there were 25 foreign New Apostolic brothers and sisters in various Chinese cities such as; Beijing, Dalian, Tianjin and, Shenyang. This area became known as NAC China North District.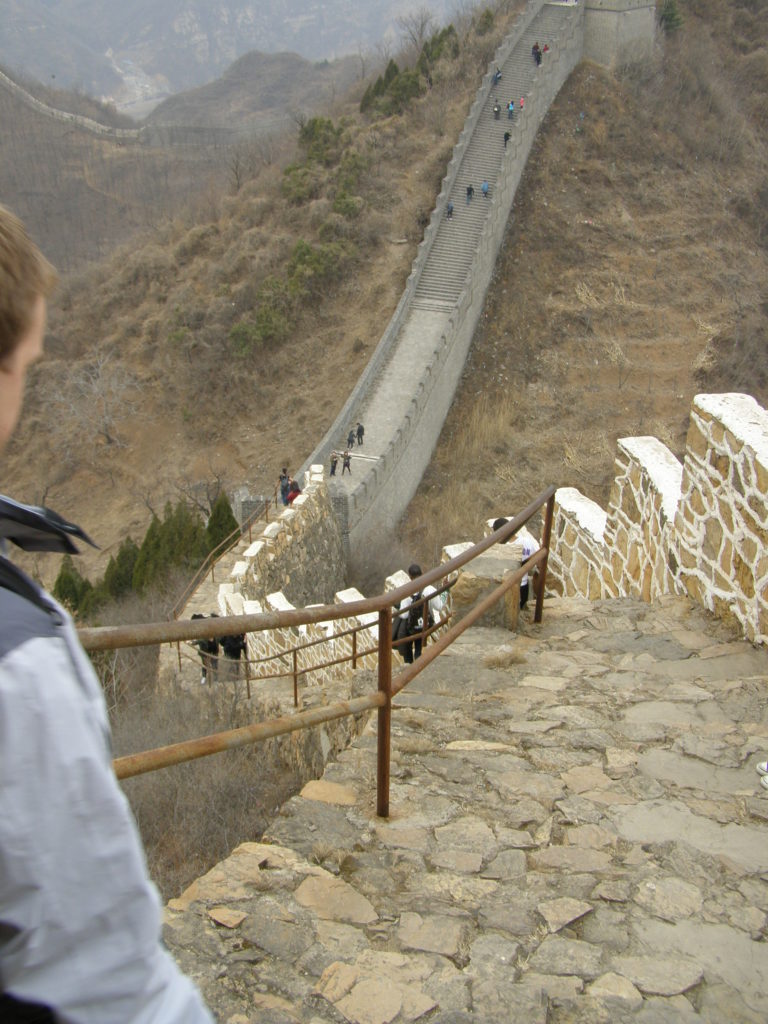 As a combined area we often organized events and excursions so that we could grow closer as a group but moreover that we could grow stronger in our faith as well. We traveled within China and went to visit the Great Wall of China, Tiananmen Square, Summer Palace and, the Bird's Nest in Beijing.
We also had the opportunity to participate in the Korean Asian Youth Day hosted by our brethren in South Korea. We traveled by ferry from North China to South Korea, this was a very interesting and exciting trip and we made many spiritual experiences. During the youth day divine service, my brother was ordained into the Priest ministry and is still actively serving in the China North District Area.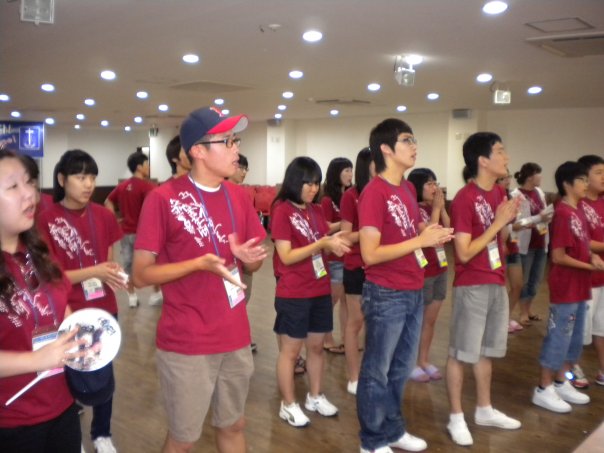 There is nothing worse than being isolated from the Word, Sacrament and, fellowship. This is especially true in China as well. We therefore appreciated these moments of fellowship and the opportunity to be with our brethren from other parts of the world.
The China North District grew steadily with a strong choir and orchestra as well as, various congregation points made available by God-fearing members from the area. The Priests for the area went out of their way to travel regularly to serve all the members in the area, even if there was just one or two members, they would make sure that every member would be served.
Shenyang chapel and visit of District Apostle
Shenyang congregation in Northeast China, had the strongest membership and therefore a place was rented for us to have divine services and church activities as well. For me it was a dream come true to actually have a designated venue for church activities and this is something I cherish wherever I go. To have your own church building to go to on a Sunday morning is such a blessing and because of my time in China I will always appreciate every moment I get to walk into a church.
Shenyang congregation became the center congregation and hosted many combined events where all NAC members living in the China North Area would travel to, areas like Beijing, Tianjin and other areas in Hebei, Liaoning, Jilin and, Heilongjiang Provinces.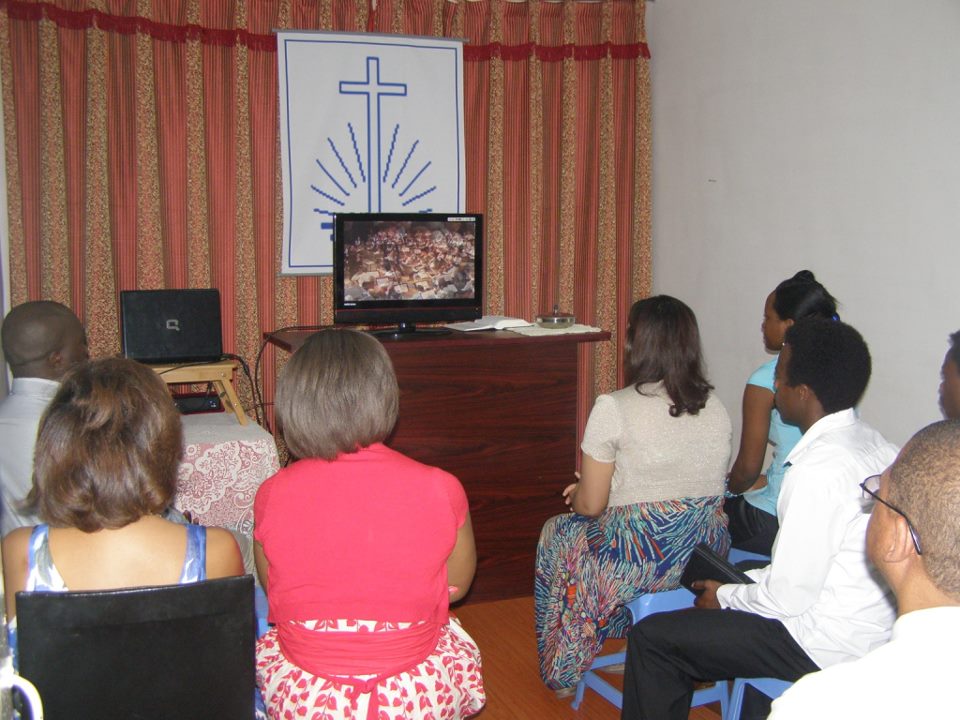 The District Apostle responsible for this region at the time was prohibited from entering Mainland China and therefore it was arranged that the District Apostle, responsible for Australia, and one of his Apostles visit us in Shenyang for Palm Sunday 2013. We were beyond excited for this visit, a first for a District Apostle to visit us and we immediately started with all preparations. During the divine service the District Apostle served the departed souls and my dad and my brother (two Priests) served as proxies for the departed souls. This was a very emotional experience. The District Apostle shared that he was very happy with the work that my dad and brother performed, by providing soul care for the foreign members in the North China region. 
Launch of Social media and expulsion from NAC Southeast Asia
As the membership in the area grew so did the awareness of Gods work in China and there was a need for connection. This gave birth to the NACIC Facebook Page, Twitter account, Instagram account and Website. The launch of our social media accounts and sharing of information on the development of the work in China was not well received by the responsible District Apostle and I was threatened with legal action from the Church.
The treatment we received from the District Apostle hereafter, reminded us of the way our Chinese brothers and sisters were treated, because later that year, we received a visit from the Apostle from Australia. His visit came right after a meeting that the Chief Apostle had with the District Apostles and Apostles of Australia and Southeast Asia, in South Korea. On this visit of the Apostle, we were informed that we had been expelled from NAC Southeast Asia District and transferred to NAC Australia.
The Apostle told us that he will not answer any questions and that we must just accept it for what it was. We felt that this was very strange that we were told that we are not allowed to question this decision. We were completely baffled by this decision and how members can simply be expelled from an area without even giving a reason. Needless to say, this left us with a very bad taste, and I remember as the Apostle was leaving my mother remarked: "This is the last time that we will see this Apostle". She said that she was reminded of our experiences in the past and how the Chinese NAC members were discarded without any reason. My mother did not take the visit of the Apostle and the news of our expulsion from NAC Southeast Asia very well and soon after that, she passed away.
Throughout all of the twenty (20) years of activity in China, the word that Chief Apostle Leber shared with us burned in our hearts: "We are not of those who draw back". Now we can see how God protected us from the very beginning of our journey in this vast country.
The Way forward
Thank you for joining me on this journey as I reflected on the past 20 years of my family and my life in China!
I hope that you all have enjoyed this series of four articles. To those members who have found themselves or still find themselves in similar situations, don't draw back but draw closer to God, He will guide you. DO NOT LEAVE THE CHURCH! We thank and praise the Almighty God, our Heavenly Father:
"Now to the King eternal, immortal, invisible, to God who alone is wise, be honor and glory forever and ever. Amen."
 I Timothy 1:17 NKJV
I am bursting with absolute excitement for the New Year, 2020, and for the re-launch of NACIC! What started out as a means of connection, a means of building awareness and a means of strengthening each other through sharing with each other has now become a global, multicultural and intensely international platform of NAC members from every walk of life. Thank you to each follower, thank you for each 'like', thank you for every share and most of all thank you for all your messages of support!
In 2020 NACIC will be more interactive! We want to hear from you! We want to share this platform with YOU!
We want to be more in touch with what happens in your congregation, your city and your country. We want you to have access to this magnificent platform of more than 25,000 FOLLOWERS. We will become more collaborative so that you can share your posts, videos, congregational activities and fellowships for all around the World to enjoy. We will launch the rebranded NACIC on 1st January 2020, so keep connected by liking or following us on Facebook, Twitter, Instagram and visiting our Website. May God bless you and may you have a prosperous 2020.
On a personal note, now that I have completed my Doctorate (Ph.D.), I will be spending more time in Europe, Asia and Africa. I look forward to meeting you, OUR FOLLOWERS, personally.
"CHRIST MAKES FREE"
THE END
To ensure that you stay informed and entertained, we encourage you to like or follow our Facebook Page, visit our Website and follow us on Instagram and Twitter. 
As always, we appreciate your input and comments. Please comment below.